Or should I say lipstick...
Nyx Round Lipstick in Orange Soda
(photo by www.cherryculture.com)
I know I know, you've heard so much about these lipsticks, that they're a great deal, and all that jazz, but trust me, don't waste your money on this one. I mean, seriously, am I alone in disliking this product?
Orange Soda is the only one I have (for about 6 months now, I think), because after buying this one, I told myself I'd never buy a Nyx round lippie ever again, and I would've been so excited about hoarding! If only this had nice quality. :(
But of course, so as not to be so pessimistic about something, it is very pigmented for it's price, on the good side.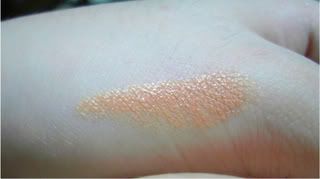 If you have very nice lips with no flakes, then this would look very nice on you, but if you do have the occasional lines and flakes, then forget it.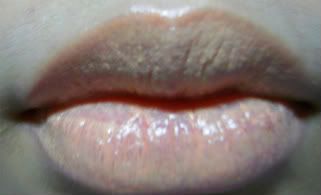 Please ignore my upper-lip, I need it waxed soon. =P But anyways, it accentuates every imperfection that my lip has! Lines, flakes, and even my lip shape. because it's so creamy, it's sloppy.
Too bad, since this is a nice color over-all. A peachy nude that only has the slightest hint of orange. But that leaves me on the search for my perfect nude lipstick, still. I'm picky when it comes to nudes, and I don't like something that shouts "NUDE" since I normally don't wear smokey eyes. My perfect nude would be something that looks nice on smokey eyes but would have a bit of color to make it just perfect for strong eyes (cat eyeliner, strong brows, etc..).
Quick Summary:
Pro's:
- pigmented
- cheap
- has a little pan at the bottom(yes with some lipstick) if you want your friend to try it or something
Con's:
-
TOO creamy
- accentuates flakes and lines
- sloppy
- high LED (I know I did a test)
Rating: 1.5/5
Where to Buy and How Much: multiply, other online re-sellers. a little below 200php if I remember correctly.
I'll never get a round lippe from nyx ever again, unless of course someone tells me that their formula, like Chanel's Rouge Coco's, are inconsistent which means I might actually have luck on some others since I only bought one. I dunno, I still always hear creamy and pigmented, though. If you happen to know a Nyx round lipstick that's not TOO creamy, however, I would like to know and would appreciate your help. So let me know. :)
'til next time! (I hope that's soon, I'd like to make more lipstick reviews.)