You've heard, right? Milk of Magnesia, so what is it exactly? Well Milk of Magnesia is
Magnesium Hydroxide
in suspension form, but since I can't find anything of the sort here in the Philippines, I went on and bought Maalox which is
Magnesium Hydroxide,
and
Aluminum Hydroxide
. Both are used as antacid or laxative, nevertheless.
Of course at first I was skeptical, despite the raves in youtube and some blogs I've seen (I forget but you can just google Milk of Magnesia as Primer I'm sure you'll find a few), because really, who'd want to put a laxative on her face, right? But now I guess that's me.
Supposedly I was actually looking for a good oil-control primer since my oil glands most often go out of control, I found that
Murad
's matte primer, which is very much also raved about, has ingredients that are quite the same with these laxatives, which is
Magnesium Aluminum Silicate
. If I'm not mistaken,
Silicate
is the mixture of silicon and oxygen, while
Hydroxide
is of course the mixture of hydrogen and oxygen, which then explains their consistency, the latter being quite thick. But that's just my own little theory since I'm no chemist.
So anyways, because of that, I gave in and told myself to just give it a try since my skin isn't sensitive anyways and I just did a patch-test.
Now about it's performance... well, I haven't tried anything like YSL or Murad yet, but I'm not sure if I still would, because this works wonders.
Yesterday was a day full of hassle and since I was outdoors, I was sweating more than normal, and to top it off, I was wearing a cream foundation meaning it was supposed to slip off and I was supposed to blot a gazillion times after. BUT, I didn't, and my make-up was still perfectly matte, and intact. How cool is that!
If you want to try it, though, make sure you do a patch-test first especially if you have sensitive skin, and do put on as less as possible. Too much would make you look like an
"espasol"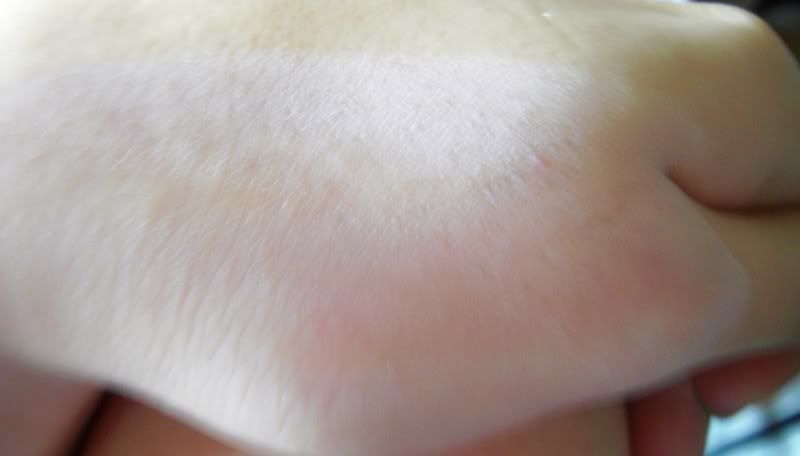 I'm not sure if you can see it clearly but check out the white stuff near my thumb. I just rubbed it on with my fingers, so it looked like that, but normally I would put it on with cotton,
a la
toner, wait for it to dry, and rub off the white excess with my fingers.
It doesn't really provide a silkier base for your make-up, of course, but it does tighten your pores, which is probably responsible for the matte-ness(if there is such a word) of your face. So if you need something that will tame your gland, this is for you, but if you're a combi, just put it in your oily areas, if you have normal or dry skin, don't think about it or you might just end up having irritated skin.
Quick Summary:
Pro's:
- controls oils
- tightens pores
- makes the make-up last longer
- affordable

Con's:
- for oily skin and areas ONLY
- tightens pores which means extra oiliness after you remove it and/or the day after.

Rating: 4/5
Where to Buy and How Much: drugstores, around 300php for the small bottle.
Hope to help you girls with your priming needs!
'til next time!